My fourth of five May promotions is a little gem! Meet Deb of
DebiMDesigns
, a fabulously creative soul who has taken the creative energy that previously drove her love of paper craft, and channeled it into the wonderful, colourful world of polymer clay.
As she herself says, her work includes everything from the scenic to the floral, all crafted in intricate detail, but her first love are the fantastic, loveable dragons that she fashions as one-off pieces by hand, using no moulds or production-line techniques whatsoever. Fabulous! Dragons are a connection many of us have with our inner children, with fairy tales and imaginary worlds, and this is the audience that Deb addresses with her work so successfully.
Not limited to stand-alone work, Deb also incorporates her polymer into practical pieces, decorating vases, candle-holders and so on with leaves, flowers and tendrils - the perfect, one-of-a-kind gift if you are after something different and unique.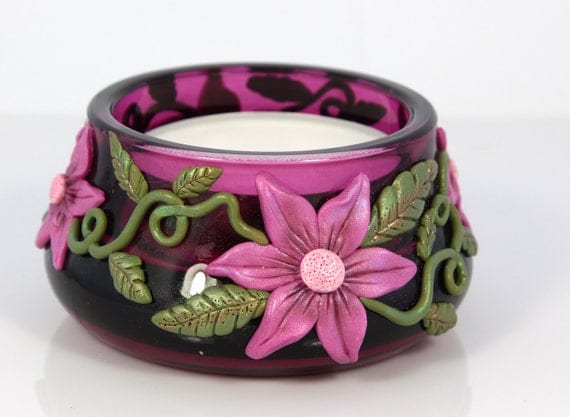 Deb also incorporates other materials in her designs many of which feature beads and findings, or, as in the case of her
piece de resistance
'Under the Sea', glass tile mosaic.
While Deb's work is all one-of-a-kind, she is only to happy to be approached for commission work similar to those already in her shop if you have a particular project in mind or colours that you would prefer.
Take a trip to DebiMDesigns and reconnect with your inner child, a world of joy and colour! You can also find Deb on
Facebook
.
Have wonderful weeks!