My nanna taught me to knit with fat pink needles and bright red wool, but no-one ever taught me how to crochet.
There's crochet and there's crochet - whole articles are written on what NOT to crochet.
But knitting is not the craft of choice for anyone who's not looking for a way to fill in an awful lot of time. I used to knit when I operated a switchboard in a little nook, shut away from the rest of the world. I used to knit when I was waiting for my babies to arrive. I still knit in doctors' and dentists' waiting rooms. But overall knitting is way too slow. Too slow, too unforgiving.
So for a number of years I have been determined to learn to crochet. I want to make granny squares too! I want to do clever things with the yokes of cotton dresses! I want to make lovely wool flower embellishments and amigurumi like all the other clever crafters! I want to be retro and play with colour and get all free-form.
Finally I mastered the hook - a combination of
Brown Owls
,
Pip Lincoln on-line tutorials
, and how-to books got me over the line. I made my very first squares, my first cushion cover, my second cushion cover, and now ...*drum rolls* ... The Boho Bag!
My inspiration for the bag, 'u
n sac, du crochet, du Liberty, de la dentelle et quelques fleurs' was made by Cecile Balladino and
came from here:
eclectic gypsy land
It looks like this:
...so beautiful!!
Cecile took
her
inspiration from Lucy Laine's '
Les Sacs Me Font Perdre La Boule!!' which is shown here: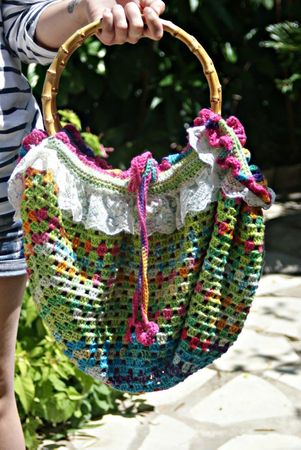 Also beautiful!
And now there's my own version:
If I take the rectangular cushion out it's much the same shape as Lucy's. And like her I've used some special vintage lace in homage if for no other reason.
Inside is some lovely Japanese print from the girls at
Voodoo Rabbit
.
So pleased with this, partly because I had to make it up as I went along, and pull it apart and try again here and there, so another tick against new skills learned, and a big tick also for perseverance.
Thanks so much to Cecile and Lucy for their inspiration - go the on-line collaborative effort!!
Have great weeks!